Amazon, Google, eBay, Facebook, Priceline
What do the world's largest players have in common?
They understand how the online pieces go together and feed from each other to grow into a market and branding engine. It starts at your domain. Then your website develops your core, then your social drives brand, image, and traffic, then content and articles keep it current, then… SEO, Social Media Management, Pay-per-Click, Articles and blogging, linking, and … always and …
It is a huge process and proper development and management are crucial to having a website or having a marketing engine driving traffic, business, and brand.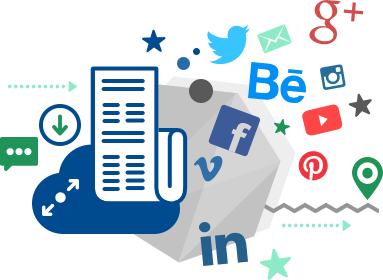 The Social Gravity
newsletter
You want to be inspired? Or just socially informed? The Social Gravity is a periodic newsletter to pass on breaking social strategies and the best from our blog. Enjoy.

It starts with a plan. What should be your online identity? Who is your target audience and how do you reach them? This defines your Strategy. The Strategy drives your first pieces, like a world-class website (all buzz-words implied like Responsive and Dynamic). Success lies in putting what you need together correctly; establishing a solid foundation, then weaving in the social and other pieces correctly way to create a marketing infrastructure that works.

Not the web, your web. It is the inter-relationships between all your online components that create the identity. How these work together to communicate is what establishes your brand and your customer following. Many people jump into these technologies without an overall plan of how it will work and what it will accomplish. A few stumble upon success, but most succeed in damaging their image.
Start with your website. Then add the social accounts. Then move from there to make it work for you. All your online activities can drive new and continued business – but you have to do it correctly.

All the work and effort you put into creating the perfectly integrated system online you can't afford to let it fall apart. Proper maintenance, well… maintains all that you have gained and more. Constant evolution of content and new material bring ranking and loyalty. It further continues your customer's journey to familiarity, trust, business then referrals. In short, customers need to: find you, recognize you (or at least feel confident in your professionalism), trust that you will do a good job, then give you their business. The good service you do will spread the word so they forward on your name to others. Remember, nothing has changed – ultimately, you have 3-seconds to create that first impression.
What do our clients say?
These guys are fun and great to work with. Professional quality all the way.

So here it is: we started working with The Flat World Network on website, social and SEO project. It was a smaller project but we NEVER felt that we were small! We got top attention and support throughout. What was amazing was that everything was open after the project was complete - we were never tied to them in any way for future work. They even put us through their social school and taught us a lot of the basics of updating the sites so that we could do it ourselves. We went through 3 other developers before we stumbled across The Flat World Network and we will never look elsewhere.

My business was just getting off the ground and I had no idea where to start - The Flat World Network helped me get started with a fantastic web presence to get my name out there. Everyone who sees my site can't believe how good it looks. Thank you!

Small Business Launch

Steve Jones Jones Stainless Co.

The Flat World Network truly outdid themselves with the highest level of professionalism, quality of product, and responsiveness.  Never seen a website as high end and truly exceptional as what I got from these guys.  I have worked with tons of web designers and SEO companies and NO ONE has made a product or treated me with such care and dignity as Norm and his team. Thank you!!!

Grey Matters International, Inc.

Kevin J. Fleming, Ph.D. Founder

For 15 years, we have worked with The Flat World Network to assist us in the facilitation and execution of conferences, trade-shows, keynotes and other public events. They bring the technical ability and the "whatever-it-takes" to make the show a perfect success in the eyes of our clients. It doesn't matter if we are doing a 100 person meeting with basic registration, or a 2000 person user conference half-way across the country - they are the best and we hope the partnership continues to last for years.

I was spending $20,000 each month on SEO and not getting what I wanted - that is, before I met one of the The Flat World Network partners in a chance meeting through a friend. Now they have totally redone my site, my links, my information network and social and I spend less and get more traffic - which leads to more conversions. What else can you say?
The time you stop thinking about what the internet can do for you, and start making it happen.
blog
Social media is more than Facebook or Twitter. It is every single thing you put online publically. The Social Gravity pulls everyone and everything together online… (Newton might say, it is directly proportionate to the product of their liked masses.)
Contact us for your FREE evaluation
Let's look at your website, your social, your network, your web and see where you could be.
New business is everywhere – it is just a matter of putting yourself strategically in its path.