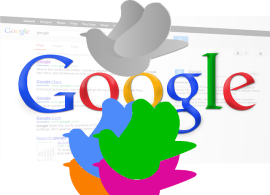 Did Google Pigeon Hurt Your Online Business Presence?
Over the past few years, search engine heavy-weight Google has rarely been out of the news as a result of its regular algorithm changes. The recently-implemented Google Pigeon update has seen changes to how websites rank in terms of local search.
In layman's terms, algorithms are the sets of signals that search engines use to determine how reputable and authoritative a website is, including elements like the freshness of content, ease of navigation, use of key terms and backlinks.
The Pigeon update started to affect results from late July 2014 onwards, with Google implementing the update to return more relevant results for local search queries rather than to impose penalties on low-quality sites as previous updates have.
So, what's changed and how can you make sure Pigeon works in your favour?
Local search is being fine-tuned
In order to return the most relevant results for local searchers, Google's latest update has narrowed down the sorts of results that show up in local search. Rather than seeing results for a broad geographical area, you're now more likely to see the most accurate results for your specific locale.
This means that, in many cases, businesses are experiencing a drop in traffic and seeing their listings wiped off the local results page as Google aims to generate more fine-tuned results.
What you need to do: Establish a plan for getting your listings back and, in the short term, think about utilizing a pay-per-click campaign to bump up traffic levels. Google Pigeon has meant the disappearance of local listing packs for a lot of keywords, so use tools like rank-checking applications to learn more about your current status.
Some changes may need to be made to improve your local visibility, such as the use of more local-specific key terms or the creation of a mobile-optimized website that searchers can use on the go.
 Local directories are ranking better
Directories of local businesses and services like Yelp have recorded better rankings since the implementation of the Google Pigeon update, which means local firms have a good chance of being found through search in this way.
What you need to do: It's a good idea to claim your listing on relevant local directories if you haven't already and perform a bit of research to see how well these directories rank for key words and terms relevant to your business.
It's especially important to have your listing featured on directories that use Google's features, like Maps, for the best results.
Website authority is a crucial ranking factor
How credible your website is now has a direct impact on how it performs in local search. The authority of you website is determined by Google through various factors, such as use of organic SEO practices, how many other websites link to yours and which you link to in return.
The sort of content featured on your website and its quality will also give the search engine an idea as to how authoritative your site is, as will ease of navigation and general usability.
What you need to do: To ensure your business shows up in local search you'll need to optimise your website to allow for streamlined navigation, and assess the quality of your content as to how effectively it meets the needs of visitors, how well the key terms perform and what sort of links you include.
Local SEO Tips After Google Pigeon – via Slocum Studios
Consistency is key
Now more than ever before is consistency an important element at play within Google's local search ranking algorithms. It's easier for the search engine to join the dots when all mentions of your business have the same name, address and phone number, which means your company will rank better in local search.
What you need to do: Check for mentions of your business online, be it on your website, social media pages, directories and elsewhere. Make sure data like your name and address are consistent and ensure any spelling mistake or errors are corrected quickly.
Visibility may be more of a challenge
If Google has deemed your website unworthy of local search results, work on the above issues to rectify the situation and, in the meantime, focus on making your business website truly optimized.
If you've been planning an overhaul of your dedicated site, now is the time to implement changes and boost visibility when your local search results might not be performing as well as you'd like.
What you need to do: Incorporate organic key words and phrases, including local terms if they're relevant to the content, across your website. Make sure your site is compatible with mobile viewing and start producing original content that's of high quality and engaging. This should help increase your overall visibility while you make changes to your local search techniques.
Google+ Local index can garner results
Being listed in Google's local search might be more difficult for some businesses than others but a great way to increase the odds is to establish an individual Google+ Local page for your firm, if you haven't already. This allows you to give specific details of your business, such as the name, address and map location, as well as an overview, which you can optimize with relevant key terms.
There's opportunity to pick out your industry category and include links to your dedicated website as well as inputting your phone number, with local area codes likely to be beneficial in helping Google work out which locations your business will apply to.
What you need to do: Set up and confirm your local business page, which can typically take a few weeks as you'll need to wait for a pin to be mailed out. In the meantime, work on optimizing your Google+ page with engaging images, relevant links and concise but interesting copy to describe your business.
Check that the details you give match those on your website and in other directories, as Google will cross-reference these when assessing whether your Google+ Local page checks out.
The 2014 Local Search Engine Ranking Factors
Moz.com recently published a very informative article regarding local search engine factors. From year to year, the only thing you can count on in local search results is change.
Last year's survey corresponded with the introduction of Local carousels to desktop SERPs and the release of New Google Maps. The summer of 2014 saw an even more dramatic shake-up with the release of Google My Business, the product of over two years of work by Google engineers and more importantly the Pigeon algorithm update.
While there is plenty of evidence to suggest that shake-up is still occurring (one theory is that the update introduced a much stronger machine-learning element than we've ever seen before), conducting the survey at this time provides a very useful data point against which to measure change year-over-year. Learn more about Google Pigeon click here…
Breathe. There is a lot of stuff here…for more information regarding Google updates or any social media questions please call NetEvents at 289-474-5447 or toll-free at 866-906-6911. Remember Be Social!
Related posts